Estate Moving Sportsman AUCTION! Sat. Oct. 12th 10am Mio,MI

Listing ID#: 161937
Auction Location

Mio, MI 48647
Auction Dates and Times
Saturday Oct 12, 2019 Completed
Auction Type

Live Auction
Free Email Notifications
Sign up for the GoToAuction.com email notifications and we will let you know about sales in your area! You may set up alerts by area (zip and radius), keywords, and by company. It is FREE and only takes a few seconds to sign up.
Listing Terms and Conditions
Terms: Cash, MI. check w/valid I.D., Visa, MC, Discover, register with valid driver's license. A 3% buyer's premium in effect for credit/debit card use. All items sell "As Is Where Is". Auctioneer is not responsible for items after Sold. Announcements day of sale take precedence over printed material

Listing Information
Estate Moving Sportsman

AUCTION!
Sat. Oct. 12, 2019 10AM Mio, MI.
Doors open at 8:30am for preview.
To Include:
Charles Limbert Arts & Crafts Mission Oak sideboard; Mid Century Modern sofa chair set; Habitant pine china hutch, kneehole desk & dresser; Rittenhouse pine log radio& lamp table, floor lamp & assorted stools; Tubbs Sno Shu folding table & chair; glass top boat coffee table; primitive work table; lg. wooden trunk; oak pub table w/2 chairs; maple dinette set; 10' oak church pew; spin top organ stool; watch repairman's desk; sm. TV; McCaw bird cage; chest freezers;
Art:
Phillip Goodwin, W. Nutting, McCollister prints; Chiefs of the Seven Tribes 101 Ranch Real Wild West framed poster & 1913 Season yard long photo; Native American lithos; Chichicastenango by Helen S Williams;
Other:
1920s Buddy L Outdoor Train locomotive 963 & tender; Budweiser Clydesdale Parade carousel motion advertising globe; Vendo 39 Coco-Cola machine mod. F39B5; Hank Greenberg & Detroit Tiger's memorabilia; MI Wolverines peddle car; Doge bros. Sales Service opaline gas pump globe; Railway Express porcelain sign; 17j. lever set pocket watch; log stamping hammers; old locks & keys; oak machinist boxes; Western saddle; Resitol cowboy hat; buckskin jacket; Native American rugs; hardcover firearm & sportsman related books; kitchenware; household; canning jars; Playstation & games; 1964 to 1970 era Brunswick Monarch Levelite non slate top pool table done in University of Michigan colors;
Weider Pro 4850 cable weight machine; free weights & bench; Pro Form crass walk treadmill; Schwinn Airdyne; Life Time Pro Glass portable basketball hoop; Kettler indoor/outdoor alum. ping-pong table; pool table; claw foot bathtubs; card table chair sets;
Sportsman:
Full body cinnamon, black & black bear w/cub mounts; full body bobcat & albino raccoon; Moose, Caribou, 12 & 8 pt. deer shoulder mounts; wolf pelt w/head; pheasant & partridge mounts; rainbow, brook, crappie, & perch mounts; zebra rug; plaque mounted antlers; Northwest Territory Fur Co. #15 Bear Trap with bronze jaws; collection of quality vintage hand crafted wicker creels & trapper's baskets; Tom Christenson plaque mounted sunfish & Trout; ice spearing decoys to include: T. Christenson jointed painted turtle & frog, G. Aho, G. Secor, J. Stangland, W. Welch, K. Johnson, & others; Abbey & Imbrie, Weber Lifelike Fly Co., Hudson Bay & Canoe Club Beverage advertising art; Orvis blanket; minnow & frog bait buckets; rods, reels, tackle boxes; Redington fly rod & reel; bent wood landing nets; fresh water eel spear; 1928 & 29 sm. game badges; Marbles, Wade & Butcher, Remington, other sheath & folding knives; duck decoys; 40 compound bows; arrows; archery targets; tree stand; Indian pom-pom & other snowshoes; canoe paddles; wood ammo crates; vintage gun powder cans; bear & deer successful hunting patches; dog training collar & tracking system; dog transports box;
Guns:
1. Ruger Mark IV model Hunter 22LR semi auto pistol, stainless steel s/n 401053981
2. Browning Arms Invector BPS Special slide action 16ga. Field model shotgun s/n 08958MR121
3. Ruger M77 Hawkeye bolt action carbine, checkered stock, 270 Win, w/scope s/n 710-75512
4. Winchester mod. 94 lever action carbine, 32WS, mfg. 1943-47 s/n 1296761
5. Winchester mod. 94 lever action saddle ring carbine 30WCF, Marbles Tang peep & front blade sights, 1928 s/n 1040452
Special Interest:
Delphi EZ Pro computer controlled glass fusing kiln; forming molds; colored sheet glass; glass cutter, frit maker & related; sm. lapidary saw; Leslie rotating speaker & 251 cabinet speaker w/reverb; Beauticians chair, hair dryer & sink bowl;
Garage & Shop:
Shopsmith multi-component woodworking system; Jet saw dust collector; Ryobi bandsaw; Delta belt disc sander; bench top drill press; bench top table saw; scroll saw; bench grinder; AC Lincoln welder; Honeywell 7500w elec. start generator; 8' step ladder; hand & power tools; tool boxes; floor jack & stands; garage related; hand trucks;
Outside:
1962 Ford Thunderbird, V-8 auto, runs, 22099 odometer reading, needs TLC, VIN 2Y83Z130309; 1970 Dodge Dart Swinger, slant 6 auto, runs, 66457 odometer reading, needs TLC, VIN LL2CCR23719; 1985 Chevy Suburban, V8 auto, runs, odometer 81223, needs TLC, VIN 1G8GK26M7FF12011; 225 cu. Slant 6 w/3sp.trans. engine; engine hoist; 1979 17' Starcraft fiberglass open bow ski boat w/115hp Evinrude & EX Load boat trailer; 17' Aerocraft square back alum. canoe; Honda Rancher ES ATV 4x4; ATV jack & alum. ramps; Craftsman YTS3000 Riding Mower; Craftsman 8.5hp lawn vac trailer; UofM Simplicity 14hp riding mower; Rubbermaid lawn trailer; Ariens Platinum 30 2 stage snowblower; 3pt 6' York rake; 3pt. counter weight box; Stihl 026 chain saw; bbq; lawn & garden; hammock; wheel barrow; incubators; steel trash cans;
Coins & So Much More. (View Coin List - Attached)

Auctioneer's Note:
The Lets Talk Auction Co. has been commissioned to sell s from from Grayling, West Branch & Mio. Large Auction, watch website for updates & 100's of pictures. Running 2 Auction Rings part of the day, bring a Bidding Partner. See you at the Auction!!
Terms:
Cash, MI. check w/valid I.D., Visa, MC, Discover, register with valid driver's license. A 3% buyer's premium in effect for Credit/Debit Card use. All items sell "As Is Where Is". Auctioneer is not responsible for items after Sold. Announcements day of sale take precedence over printed material.
LETS TALK AUCTION COMPANY
~ Your Full Service Auction Company ~
Greg & Donna Tuttle
Auction Acres: (989) 848-5158
www.LetsTalkAuction.com
Location: Auction Acres 1491 Perry Creek Rd. & M-33 Mio, MI. Auction Barn is located between the towns of Mio & Fairview. Just 7 miles north of traffic light (M-33/M-72) in Mio or 2 miles west of blinking light (M-33/M-72) in Fairview.
Absentee Bids Accepted, Call Auction Acres for full details.
Photo Gallery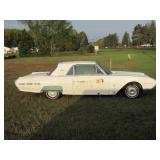 ' alt='1979 17' Starcraft open bow >'>